Jellycat Joyful Easter Presents
Chocolate Or No Chocolate?
I am always torn at easter between a present to keep or that traditional chocolate easter egg.  As a grown up i deprive myself of the chocolate present. I guess I am still too vain. However, i know the little ones cannot wait to get their hands on as many easter eggs as they can .  I remember the Easter egg hunt in the garden and the anticipation of how many you can find before your siblings.  Once found and eaten it is all over.
Present Or NO Present?
These days I like to give a little present that can be kept as well. This will depend on the age of the person you are giving to.  I tend to only give to the younger children now,  grandchildren. A small egg and a small present and lots of time. This makes my perfect Easter. So while they are still young enough I like to shower them with Jellcat lovelies. I know it will not be long before they grow out of them and want lots of high-tech gadgets.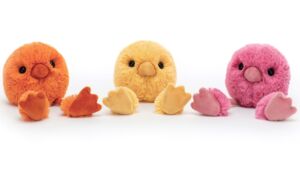 So Many More!
I could carry on adding lots more pictures of these lovely Jellycats.  However, I think it would be easier for you to visit the JELLYCAT category on the site and choose for yourself.